Three suspects in connection with the bomb blast that killed one person on Monday in Okpella, Etsako Local Government Area of Edo State have been arrested and paradad by Edo State Police Command.
The suspects are also alleged to have assembled the bomb.
Edo State Police Command said there is no course for alarm as it has commenced full scale investigation into the bomb explosion.
The police also recovered 20 borne Improvised Explosive Devices (IEDs), highly inflatable chemicals, arms, leather weapons.
The deadly tools were said to have been loaded in a Toyota Corolla Saloon Car with registration number ABUJA-ABC-371 HK.
Edo State Police Commissioner, Mr. Johnson Kokumo disclosed this while briefing journalists in his office in Benin City, yesterday.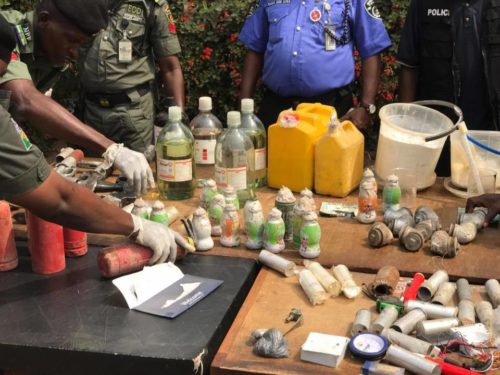 He confirmed that on Monday, January 15, 2018 an IED accidentally exploded and killed one Sanusi, a member of a criminal gang involved in the assemblage of explosives in a three bedroom apartment in Okugbe area near Iddo Okpella, Etsako East local government area of Edo State.
Kokumo gave the name of the gang leader who is on the run as Idris Hassa Abdulmalik, male and those paraded as Idris Ibrahim, 22, male, Zainab Ibrahim, female and Oyeza Abdul, female, all from Kogi State.
He stated that the command bomb disposal squad was directed to immediately destroy some of the items to forestall further tragedy.
CP Kokumo assured residents of the state particularly those in Okpella and its environs of adequate security as operatives of Special Anti-Bomb Squad have been directed to rid area of possible explosives.
The State Police Chief explained that a manhunt for the fleeing gang leader had been launched as investigation would later reveal the motive and sponsors of the group.
He however called on members of the public to be wary of strange movement of persons and report any suspicious element or group found in their neighborhood to the police.
In an interview with jounalists, one of the suspects, Idris Ibrahim stated: "I am from Okenne in Kogi State. I was born and schooled in Lagos State. I learnt welding.
"My brother told me that after I finished my work, he will open shop for me. That was why I came to Edo.
"I was not the one with explosives. It was my brother. I was never at home. I used to go to Auchi to look for shops.
"I was at home when he asked me to burn gas in his farm because he wants to harvest cassava. I told him I cannot do it so he asked Sanusi to go and help me.
"I only heard explosion at my back and Sanusi died. I only know about Sanusi and another man that used to visit my brother. Sanusi resides Okpella. They never sent me anywhere. My brother told me he is a driver.
"I just discovered that the car belongs to him. I visited markets not to look for targets to bomb but to search for any empty shop I can rent.
"When I became aware that my brother was manufactureing explosives, I started looking for ways to leave the house. I ask him about it and he told me to shut up. He does not do it at home. I learnt about it four weeks ago. I saw them taking explosives out one day. I did not know where they took them to. He has a secret room which he locked up. Nobody enters the place."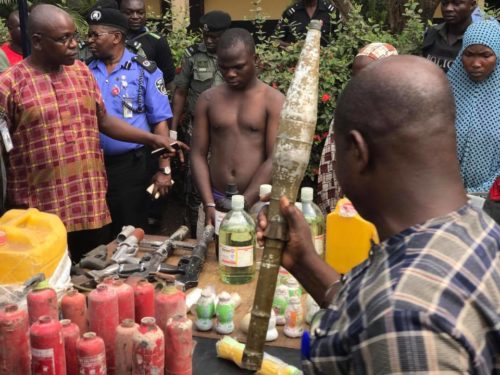 Wife of the fleeing suspect, Zainab Ibrahim said she wanted to cry out when she learnt about the explosives.
"My husband is a driver that takes passengers to and from Abuja. I don't enter the private room in the house.
"When I know about the explosives, I asked him about it, he said he was not the owner or manufacturer. I wanted to shout out. I was sleeping when the one that killed Sanusi exploded."
The police listed the items recovered to include 18 plastic bottles and two fire extinguisher prepared borne IEDs, one rocket propelled grenade (RPG) without the launcher, one Beretta Pistol No. 53101466 with seven rounds of .9mm live ammunition, two Riot Gunners, four Smoke Pistols and 21 expended smoke cartridges.
Others are 23 empty fire extinguisher cylinders, two timer clocks, four remote control panel and switches, eight nine-volt batteries, eight live tear gas cartridges, 20 small cans of assorted chemicals, two gallons of gun powder, three Hydrometers used in measuring potency of IEDs, 200 gramms of carbide, 500ml bottles of highly inflammable chemicals, half bag of potassium nitrate, a pair of scissors, 30 pieces of syringes and needles. among others.